XTI | 1.5 WF Optik Recessed IP66 | IK11 (Wide Flange)
XTI | 1.5 WF Optik Recessed IP66 | IK11 (Wide Flange) – Size: 42mm (1.65 )Wide x 87mm (3.42 ) High integral gear continuous
The XTI series is an IP66 / IK11 profile that is capable of 50ºC ambient locations and with the installation of the Xeramix R system, has a 15 year warranty
FEATURES
the XTI profile has a continuous ribbon diffuser that has no joins or breaks. This industry first profile can house ancillary components such as speakers and emergency packs and can be mounted directly to the surface, suspended or with custom brackets designed on application.



Output

4ft Length
1120mm

Luminous Flux
(Delivered Lumens)

LO
1900

HO
3500

CRI
80+
Lumen Maintenance
114,000 hours [L90 B10 @ 50°C] 1M hours [L70 B10 @ 50°C]
Warranty
Xeramix 1 10 years
Electrical
Power Consumption
Between 20 and 45w/m
Voltage input range
120 – 277V
Control methods
Dimming options for white light: 0-10V DALI,
Total harmonic distortion THD
9.8% max
Approvals
UL / CE / CCC / AS:NZS / EMC
Physical
Dimensions
42mm (1.65″)Wide x 87mm (3.42″) High
Weight per metre
3.50Kg (7.71lbs) average weight
Housing
Aluminium Extrusion with anodised or powder coated finish
Diffuser
Polycarbonate Diffuser/ Clear Polycarbonate Diffuser / Internal anti-glare baffle
Connections
Optional polarised electrical connection between sections
Compatible ceiling type
Suitable for drywall ceilings, metal pan, concrete, timber and T bar grid ceilings
Mounting
Field adjustable Rollerball Wire Suspensions / Surface Mounting / Custom Mounting / Rod Suspension / Wall Mounting
Joiner options
90º / Straight / Custom
Operating temperatures
Xeramix -25ºC to 50ºC (-13ºF to 140ºF)
Environment
IP66 (not in direct sunlight) (diffuser must not face upwards)
Minimum length adjustment
Xeramix = 1mm (with cover plates) / (using OPTIK only = 287mm)
LED board types
Xeramix 1 boards 287 mm Zhag a compatible
IK rating
IK11
Vandal proof
Available with anti-vandal fasteners
Optional extras
Lanyards / Emergency packs / Environmental Plugs /Thermal th rottle / IOT connectivity
Optic Beam Angles
16ºsmooth, 30ºmedium, 45ºoval, 60ºoval, 30º x 60ºwall washer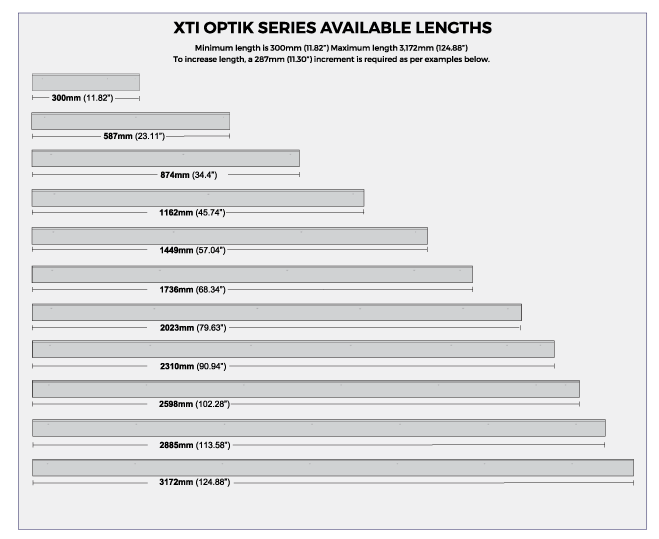 Single

Twin

Triple

Custom*
Note: By using a combination of cover plate and baffle a 1mm increment can be created.
Talk with your local Xero Specification Consultant for your custom design options.
xerolighting.com.contact
CREATING LENGTHS WITH XTI | 1.5 WF Optik Recessed IP66 | IK11 (Wide Flange)
The XTI | 1.5 Optik IP66 IK11 set lengths can be coupled together in any combination to achieve the desired length.
Note: custom lengths are also available – please consult your local Xero office for information
Custom lengths are available in 0.984″ (25mm) increments
The XTI | 1.5 Optik Series Xero Linear Lighting System brings high-quality dot free illumination to commercial and institutional interior environments. Featuring the latest generation of LED technology, The XTI | 1.5 Optik is the perfect choice for offices, retail and public spaces with clean, uninterrupted lines of light that comes from Xero's exclusive patent 'SpeedConnect' System
Xeramix LED light engines are LED boards that utilise ceramic based LED chips that provide outstanding light quality over the LIFE of the boards. The LED light engines have 100,000 hour life to L90 and 3 step McAdam ellipse at END OF LIFE at 75ºC. This performance is unmatched.For more information on the Xeramix LED light engines and the difference between plastic and ceramic LED's please visit xeramix.com

L90 B10 114,000 hours @ 50ºC
Xeramix 1 boards are both high output and high efficiency combined giving unmatched flexibility, by tuning the drive current any output is achievable


L70 B10 1,000,000 hours @35ºC
Xeramix R boards are both high output and high efficiency combined giving unmatched flexibility, by tuning the drive current any output is achievable.



(Down distribution) Optic available in 16º / 30º / 45º / 60º / and 30º x 60º wall wash.



All bends are extrusion only and do not contain LED's and are not IP rated
* Other options including custom colour matching available on request
Contact your nearest Distributor – xerolighting.com/contact
STANDARD COLOURS

Textured White

90133641

Textured White

90133641

10 Micron Anodised Aluminium
(Not available for curved profiles) 10 Micron Anodised Aluminium
(Not available for curved profiles)

Textured Black

90132679

Textured Black

90132679

RAL COLOURS

* Additional cost

RAL 9010
Pure White Satin PR12/40197/CS1 RAL 9010
Pure White Satin

PR12/40197/CS1

RAL 7035
Light Grey Satin PR12/60978/CS1 RAL 7035
Light Grey Satin

PR12/60978/CS1

RAL 9003
Signal White Satin PR12/40197/CS1 RAL 9003
Signal White Satin

PR12/40197/CS1

RAL 1015
Light Ivory Gloss PR12/941/C72 RAL 1015
Light Ivory Gloss

PR12/941/C72

RAL 7032
Pebble Grey Satin PR12/60232/CS2 RAL 7032
Pebble Grey Satin

PR12/60232/CS2

RAL 6002
Leaf Green Gloss PR12/20726/C12 RAL 6002
Leaf Green Gloss

PR12/20726/C12

RAL 9005
Jet Black Gloss PR12/710/C42 RAL 9005
Jet Black Gloss

PR12/710/C42

RAL 9004
Signal Black Matt PR18/7120/CM3 RAL 9004
Signal Black Matt

PR18/7120/CM3

RAL 5012
Light Blue Satin PR12/30670/CS5 RAL 5012
Light Blue Satin

PR12/30670/CS5

RAL 5005
Signal Blue Satin PR12/30263/CS6 RAL 5005
Signal Blue Satin

PR12/30263/CS6

RAL 1021
Colza Yellow Satin PR12/60464/CS6 RAL 1021
Colza Yellow Satin

PR12/60464/CS6

RAL 1018
Zinc Yellow Gloss PR12/159/C46 RAL 1018
Zinc Yellow Gloss

PR12/159/C46

RAL 1003
Signal Yellow Gloss PR12/134/C36 RAL 1003
Signal Yellow Gloss

PR12/134/C36

RAL 2000
Yellow Orange Gloss PR12/650/C38 RAL 2000
Yellow Orange Gloss

PR12/650/C38

RAL 2009
Traffic Orange Gloss PR12/6162/C21 RAL 2009
Traffic Orange Gloss

PR12/6162/C21

ANODISED FINISHES

(Not available for curved profiles)
* Additional cost

25 micron Annodised

25 micron Annodised

Grey Anodised

Grey Anodised

Black Anodised

Black Anodised

Green Anodised

Green Anodised

Gold Anodised

Gold Anodised

Blue Anodised

Blue Anodised

Red Anodised

Red Anodised

NON-STANDARD COLOURS

* Additional cost

alphatec classic white gloss

27281880

alphatec classic white gloss

27281880

alphatec blaze blue gloss

98419941

alphatec blaze blue gloss

98419941

alphatec french blue gloss

98432725

alphatec french blue gloss

98432725

alphatec pommel blue gloss

98451034

alphatec pommel blue gloss

98451034

alphatec space blue gloss

98419990

alphatec space blue gloss

98419990

alphatec navy gloss

98450282

alphatec navy gloss

98450282

alphatec dark violet gloss

98451926

alphatec dark violet gloss

98451926

alphatec flame red gloss

98419959

alphatec flame red gloss

98419959

alphatec signal red

98450735

alphatec signal red

98450735

safety yellow gloss

9842015G

safety yellow gloss

9842015G

alphatec yellow gold gloss

98433617

alphatec yellow gold gloss

98433617

alphatec lemon yellow gloss

98432120

alphatec lemon yellow gloss

98432120

alphatec orange x15 gloss

98451439

alphatec orange x15 gloss

98451439

alphatec mistletoe gloss

98451040

alphatec mistletoe gloss

98451040

alphatec transformer grey gloss

98432186

alphatec transformer grey gloss

98432186

Aztec Black

90182757

Aztec Black

90182757

APO Grey Scylla

90136612

APO Grey Scylla

90136612

Aztec Silver

90185040

Aztec Silver

90185040

Black Scylla

90150003

Black Scylla

90150003

Black texture

90132679

Black texture

90132679

Copper Kinetic Pearl Satin

9717183K

Copper Kinetic Pearl Satin

9717183K

Graphite Sarouk

93551677

Graphite Sarouk

93551677

Grey Hammer

90185184

Grey Hammer

90185184

Gunmetal Kinetic Pearl Satin

9718115K

Gunmetal Kinetic Pearl Satin

9718115K

Horizon White Scylla

90151608

Horizon White Scylla

90151608

Light Grey Scylla

90150766

Light Grey Scylla

90150766

Mid Bronze Matt

27251014

Mid Bronze Matt

27251014

Metropolis Silver Glow Gloss

97184623

Metropolis Silver Glow Gloss

97184623

Notre Dame Scylla

90150223

Notre Dame Scylla

90150223

Onyx Pearl Gloss

97152052

Onyx Pearl Gloss

97152052

Pewter Pearl Satin

97188202

Pewter Pearl Satin

97188202

Platypus Kinetic Pearl Satin

9717214K

Platypus Kinetic Pearl Satin

9717214K

Red Brown Scylla

90185473

Red Brown Scylla

90185473

Silver Glow Pearl Gloss

97184623

Silver Glow Pearl Gloss

97184623

Silver Grey Matt

27251272

Silver Grey Matt

27251272

Silver Lode Pearl Texture

9017034Z

Silver Lode Pearl Texture

9017034Z

Silver Sarouk

93584874

Silver Sarouk

93584874

St Elmos Fire Kinetic Pearl Satin

9717208K

St Elmos Fire Kinetic Pearl Satin

9717208K

Steel pearl Satin

97157127

Steel pearl Satin

97157127

Stone Beige Scylla

90185474

Stone Beige Scylla

90185474

Storm Grey Scylla

90150183

Storm Grey Scylla

90150183

Zincshield Matt

9907036M

Zincshield Matt

9907036M

Shoji White Satin

27284682

Shoji White Satin

27284682

clear gloss

91081797

clear gloss

91081797

Charcoal Gloss

2729086G

Charcoal Gloss

2729086G

White Matt

96132312

White Matt

96132312

Magnolia Gloss

27232658

Magnolia Gloss

27232658

Olde Pewter Satin

27250243

Olde Pewter Satin

27250243

Metropolis Storm Satin

97184684

Metropolis Storm Satin

97184684

Primrose Scylla

9013005Z

Primrose Scylla

9013005Z

Classic Hawthorn Green Gloss

27233709

Classic Hawthorn Green Gloss

27233709

Cottage Green Satin

27284219

Cottage Green Satin

27284219

Mannex Suede, Texture

90137543

Mannex Suede, Texture

90137543

APO Grey Satin

27232786

APO Grey Satin

27232786

Berry Grey, Gloss

2727262G

Berry Grey, Gloss

2727262G

Citi Matt

97188471

Citi Matt

97188471

JASPER satin

2728122S

JASPER satin

2728122S

armourspray velocity green

91033709

armourspray velocity green

91033709

armourspray white gloss

91019143

armourspray white gloss

91019143

barley gloss

2723089G

barley gloss

2723089G

barrister white satin

27284672

barrister white satin

27284672

black Sarouk

93551146

black Sarouk

93551146

black CB night sky satin

95981878

black CB night sky satin

95981878

black satin

90109024S

black satin

90109024S

Black Gloss

2729090G

Black Gloss

2729090G

Black Matt

27219319

Black Matt

27219319

blue ridge satin

27288480

blue ridge satin

27288480

blue Hammer

90185159

blue Hammer

90185159

bright silver metallic gloss

96151491

bright silver metallic gloss

96151491

bright white gloss

27284636

bright white gloss

27284636

canola cream satin

27281796

canola cream satin

27281796

champagne Kinetic Matt

9713059K

champagne Kinetic Matt

9713059K

charcoal Metallic Pearl Gloss

97118796

charcoal Metallic Pearl Gloss

97118796

charcoal satin

27288351

charcoal satin

27288351

classic cream satin

2722095S

classic cream satin

2722095S

copper satin

9614137Q

copper satin

9614137Q

dark grey Matt

27251275

dark grey Matt

27251275

deep brunswick green

2726134G

deep brunswick green

2726134G

deep ocean satin

2725125S

deep ocean satin

2725125S

dune satin

2723087S

dune satin

2723087S

duralloy white satin

2721139S

duralloy white satin

2721139S

evening haze satin

2723055S

evening haze satin

2723055S

ironstone satin

2727257S

ironstone satin

2727257S

light grey gloss

2727263G

light grey gloss

2727263G

magnolia Scylla gloss

90133618

magnolia Scylla gloss

90133618

manor red satin

2724134S

manor red satin

2724134S

monument matt

9599066M

monument matt

9599066M

monument satin

2729067S

monument satin

2729067S

natural pearl matt

97189119

natural pearl matt

97189119

notre dame gloss

27236672

notre dame gloss

27236672

off white satin

27233732

off white satin

27233732

olde pewter satin

26050243

olde pewter satin

26050243

oyster matt

27236858

oyster matt

27236858

paperbark satin

2723088S

paperbark satin

2723088S

pearl white gloss

2721114G

pearl white gloss

2721114G

precious nickel pearl matt

97188360

precious nickel pearl matt

97188360

primrose gloss

27284365

primrose gloss

27284365

rivergum beige gloss

27236991

rivergum beige gloss

27236991

riversand matt

95936656

riversand matt

95936656

shale grey satin

27283246

shale grey satin

27283246

stone grey satin

27278126

stone grey satin

27278126

streetwise silver satin

9107049Q

streetwise silver satin

9107049Q

surfmist matt

95984758

surfmist matt

95984758

surfmist satin

2721137S

surfmist satin

2721137S

weathered copper matt

27233724

weathered copper matt

27233724

wedgewood satin

27250279

wedgewood satin

27250279

white birch gloss

27237131

white birch gloss

27237131

wilderness satin

27284224

wilderness satin

27284224

windspray satin

2727256S

windspray satin

2727256S

woodland grey matt

95951698

woodland grey matt

95951698

woodland grey satin

272255S

woodland grey satin

272255S

X | TEK PREMIUM FINISHES

* Additional cost
Concrete Finishes

---

Charcoal Concrete

Charcoal Concrete

Polished Concrete

Polished Concrete

Light Concrete

Light Concrete

---

Rust Finishes

---

Desert Sand

Desert Sand

Edgy Auburn

Edgy Auburn

Earthy Ochre

Earthy Ochre

Morrocan Spice

Morrocan Spice

---

Woodgrain Finishes

---

Antique White

Antique White

Natural American Oak

Natural American Oak

Dark Mocha

Dark Mocha

Driftwood

Driftwood

European Walnut

European Walnut

Natural Blackbutt

Natural Blackbutt

Natural Bush Cherry

Natural Bush Cherry

Natural Casuarina

Natural Casuarina

Natural Chestnut

Natural Chestnut

Natural Curly Birch

Natural Curly Birch

Natural Ebony

Natural Ebony

Natural French Oak

Natural French Oak

Natural Golden Gum

Natural Golden Gum

Natural Golden Oak

Natural Golden Oak

Natural Ironbark

Natural Ironbark

Natural Jarrah

Natural Jarrah

Natural Kwila

Natural Kwila

Natural Maple

Natural Maple

Natural Silky Oak

Natural Silky Oak

Natural Snow Gum

Natural Snow Gum

Natural Tasmanian Oak

Natural Tasmanian Oak

Natural Teak

Natural Teak

Natural Wenge

Natural Wenge

Smoked Ash

Smoked Ash

Walnut Burl

Walnut Burl

Weathered Timber

Weathered Timber

Western Red Cedar

Western Red Cedar

Rose Mahogany

Rose Mahogany

African Blackwood

African Blackwood

Coastal Spotted Gum

Coastal Spotted Gum

Merbau

Merbau

Charred Timber

Charred Timber

Blue Ash

Blue Ash

Brushbox

Brushbox

White Ash

White Ash

Hampton Beech

Hampton Beech